"There is but one price at which souls are bought, and that is suffering united to My suffering on the cross."
Words of Jesus to St. Faustina (Diary, 324)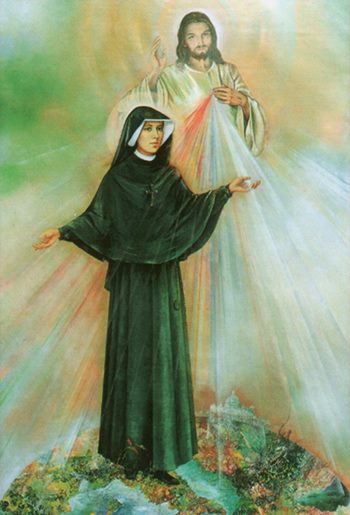 "Suffering is a great grace; through suffering the soul becomes like the Savior; in suffering love becomes crystallized; the greater the suffering, the purer the love." (Diary of St. Faustina, 57)
"Humiliation is my daily food. I understand that the bride must herself share in everything that is the groom's; and so His cloak of mockery must cover me, too. At those times when I suffer much, I try to remain silent, as I do not trust my tongue which, at such moments, is inclined to talk for itself, while its duty is to help me praise God for all the blessings and gifts which He has given me. When I receive Jesus in Holy Communion, I ask Him fervently to deign to heal my tongue so that I would offend neither God nor neighbor by it. I want my tongue to praise God without cease. Great are the faults committed by the tongue. The soul will not attain sanctity if it does not keep watch over its tongue." (92)
"O you small, everyday sacrifices, you are to me like wild flowers which I strew over the feet of my beloved Jesus. I sometimes compare these trifles to the heroic virtues, and that is because their enduring nature demands heroism." (208)
"In the midst of trials I will try to see the loving hand of God. Nothing is as constant as suffering – it always faithfully keeps the soul company. O Jesus, I will let no one surpass me in loving You!" (227)
"I will thank the Lord Jesus for every humiliation and will pray specially for the person who has given me the chance to be humiliated. I will immolate myself for the benefit of souls. I will not count the cost of any sacrifice. I will cast myself beneath the feet of the sisters, like a carpet on which they can not only tread, but also wipe their feet. My place is under the feet of the sisters. I will make every effort to obtain that place unnoticed by others. It is enough that God sees this." (243)
"Jesus told me that I please Him best by meditating on His sorrowful Passion, and by such meditation much light falls upon my soul. He who wants to learn true humility should reflect upon the Passion of Jesus. When I meditate upon the Passion of Jesus, I get a clear understanding of many things I could not comprehend before. I want to resemble You, O Jesus, – You crucified, tortured, and humiliated. Jesus, imprint upon my heart and soul Your own humility. I love You, Jesus, to the point of madness, You who were crushed with suffering as described by the prophet [cf. Isaiah 53:2-9], as if he could not see the human form in You because of Your great suffering. It is in this condition, Jesus, that I love You to the point of madness. O eternal and infinite God, what has love done to You?" (267)
"From the moment I came to love suffering, it ceased to be a suffering for me. Suffering is the daily food of my soul." (276)
"Mother of God, Your soul was plunged into a sea of bitterness; look upon Your child and teach her to suffer and to love while suffering. Fortify my soul that pain will not break it. Mother of grace, teach me to live by [the power of] God." (315)
"Suffering is the greatest treasure on earth; it purifies the soul. In suffering, we learn who our true friend is." (342)
"True love is measured by the thermometer of suffering. Jesus, I thank You for the little daily crosses, for opposition to my endeavors, for the hardships of communal life, for the misinterpretation of my intentions, for humiliations at the hands of others, for the harsh way in which we are treated, for false suspicions, for poor health and loss of strength, for self-denial, for dying to myself, for lack of recognition in everything, for the upsetting of all my plans. Thank You, Jesus, for interior sufferings, for dryness of spirit, for terrors, fears and incertitudes, for the darkness and the deep interior night, for temptations and various ordeals, for torments too difficult to describe, especially for those which no one will understand, for the hour of death with its fierce struggle and all its bitterness. I thank You, Jesus, You who first drank the cup of bitterness before You gave it to me, in a much milder form. I put my lips to this cup of Your holy will. Let all be done according to Your good pleasure; let that which Your wisdom ordained before the ages be done to me." (343)
"Love must be reciprocal. If Jesus tasted the fullness of bitterness for me, then I, His bride, will accept all bitterness as proof of my love for Him." (389)
"When some suffering afflicts me, it no longer causes me any bitterness, nor do great consolations carry me away. I am filled with the peace and equanimity that flow from the knowledge of the truth. How can living surrounded by unfriendly hearts do me any harm when I enjoy full happiness within my soul? Or, how can having kind hearts around me help me when I do not have God within me? When God dwells within me, who can harm me?" (455)
"I accept joy or suffering, praise or humiliation with the same disposition. I remember that one and the other are passing. What does it matter to me what people say about me? I have long ago given up everything that concerns my person. My name is host – or sacrifice, not in words but in deeds, in the emptying of myself and in becoming like You on the Cross, O Good Jesus, my Master!" (485)
"I will enclose myself in the chalice of Jesus so that I may comfort Him continually. I will do everything within my power to save souls, and I will do it through prayer and suffering." (735)
"I have understood that at certain and most difficult moments I shall be alone, deserted by everyone, and that I must face all the storms and fight with all the strength of my soul, even with those from whom I expected to get help. But I am not alone, because Jesus is with me, and with Him I fear nothing. I am well aware of everything, and I know what God is demanding of me. Suffering, contempt, ridicule, persecution, and humiliation will be my constant lot. I know no other way. For sincere love – ingratitude; this is my path, marked out by the footprints of Jesus." (746)
"In difficult moments, I will fix my gaze upon the silent Heart of Jesus, stretched upon the Cross, and from the exploding flames of His merciful Heart, will flow down upon me power and strength to keep fighting." (906)
"Oh, if only the suffering soul knew how it is loved by God, it would die of joy and excess of happiness! Some day, we will know the value of suffering, but then we will no longer be able to suffer. The present moment is ours." (963)
"May You be blessed, O God, for everything You send me. Nothing under the sun happens without Your will. I cannot penetrate Your secrets with regard to myself, but I press my lips to the chalice You offer me." (1208)
"My God, although my sufferings are great and protracted, I accept them from Your hands as magnificent gifts. I accept them all, even the ones that other souls have refused to accept. You can come to me with everything, my Jesus; I will refuse You nothing. I ask You for only one thing: give me the strength to endure them and grant that they may be meritorious. Here is my whole being; do with me as You please." (1795)
Diary, Saint Maria Faustina Kowalska, Divine Mercy in My Soul (c) 1987 Congregation of Marian Fathers of the Immaculate Conception of the B.V.M. Stockbridge, MA 01263. All rights reserved. Used with permission.